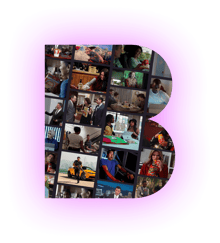 THE UK CONSUMER PERSPECTIVE ON

PRODUCT PLACEMENT
The growth of ad-free TV streaming services and consumers' tendency to multi-screen has made it harder for brands to reach consumers through TV advertising. In an effort to understand if product placement offers brands a platform to cut through the noise of TV advertising, BENlabs surveyed 500 UK consumers about their TV viewing habits, perceptions, and overall attitudes towards product placement.
Findings show that UK consumers not only view product placement favourably, but also that product placement influences behaviour throughout the purchase funnel.
of UK consumers prefer product placement over advertising in TV content



of UK consumers have a negative perception of product placement when associated with product placement icon
of UK consumers (the majority) experience positive emotions after seeing products or brands in TV content
of UK consumers have searched for a product online after seeing it on TV and more than half (51%) go on to make a purchase
of UK consumers (almost half) become aware of products for the first time via integration in TV and film content
UNDERSTANDING CONSUMERS' PERSPECTIVES ON PRODUCT PLACEMENT
CONCERNS OVER NEGATIVE PERCEPTIONS OF THE PRODUCT PLACEMENT ICON AMONG CONSUMERS ARE

UNFOUNDED
Less than three in every 10 (28%) consumers know what the product placement icon represents. Of those that do, the majority (63%) say it has no effect on their opinion of the content.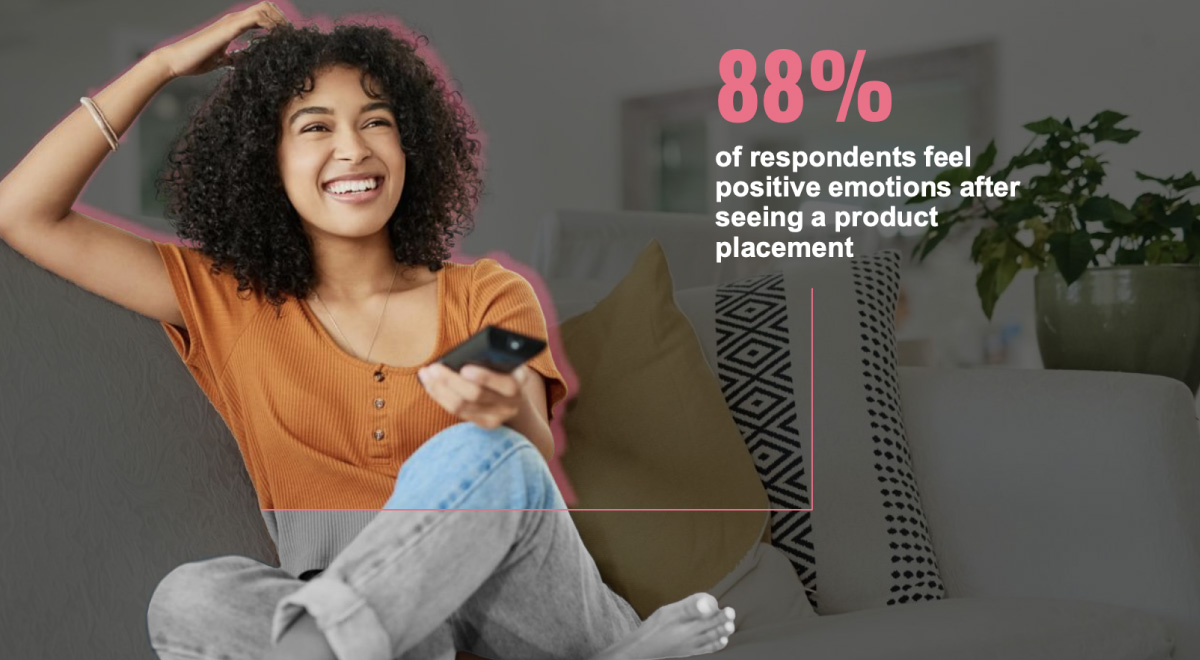 seeing products and brands in tv programmes and films elicits

positive emotional responses
The majority (88%) of respondents reported feeling positive emotions

(happiness, inspiration, interest, and/or curiosity) after seeing a product or brand in a film or TV programme.

In fact, 54% say they like seeing their favourite brands and products in TV programmes and films.
product placement generates awareness and

improves consumers' opinions

of brands and products
Half (47%) of consumers say they have become aware of a product for the first time after seeing it on TV programmes or in films.

More than half (52%) believe that seeing products on TV programmes or in films is a good way to know what's on trend, and two in every five say that it improves their opinion of the product or brand.
product placement IS FAVOURED OVER ADVERTISING AND GENERATES

BETTER RESULTS
Given a choice, consumers would prefer to watch a TV programme

with product placement

over advertising.

Product placement generates better recall, is more likely to result in consumers researching products, and generates better connection with products compared to advertising.
RELATABILITY AND AUTHENTICITY ARE

KEY
Consumers believe that product placement makes TV programmes and films more authentic.

Furthermore, products are more likely to be noticed by favoured and relatable characters.

For marketers, this represents an opportunity to reach consumers when they are highly engaged and receptive.
RESEARCH AND PURCHASE BEHAVIOURS
CONSUMERS ARE QUICK TO

RESEARCH PRODUCTS AND BRANDS

THEY SEE ON TV AND FILMS
Six in every 10 (60%) consumers have searched for a product or brand on at least one platform after seeing it on TV or in a film.

Half (48%) of consumers conduct their research as they watch, 22% do so within one hour.



51% of consumers that search for a brand

or product after seeing it on TV

go on to purchase the same product,

or a different product from the same brand.
PRODUCT PLACEMENT DRIVES ONLINE AND OFFLINE SHOPPING AND

POSITIVE WORD OF MOUTH

ONE-THIRD (34%)

HAVE PURCHASED A PRODUCT SEEN ON TV, OR A DIFFERENT PRODUCT FROM THE SAME BRAND
Of those who have purchased specific products, 17% made the purchase as they were watching,

29% did so within two hours,

19% waited more than a day, and 26% took longer than one week.
MORE THAN HALF (55%)

OF PURCHASES HAPPEN WITHIN ONE DAY OF EXPOSURE
The time lag between exposure and purchase is somewhat unpredictable.

With 45% of UK consumers waiting more than a day before making a purchase, and more than half of those waiting more than a week, there is an opportunity for marketers to re-engage these consumers via digital channels to reduce this lag.
AUTHENTICITY IS

KEY
UK consumers are not put off by exposure to products and brands in TV programmes and films in addition to advertising.

The most off-putting factors are obvious and repetitive placement. At BENlabs, we can help you achieve an authentic product placement and better understand your audience to mitigate against the risk of overexposure.
How can BENlabs help you generate results with product placement?

Want a copy of this report?
PUT YOUR BRAND IN THE SPOTLIGHT
Fill out the form to get in touch with our team. Get started on your journey to greater ROI through authentic product placements.